Are you looking to add some valuable coins to your collection? Consider the Most Valuable Jefferson Nickels! These rare and highly sought-after coins have been known to fetch high prices at auction and are a must-have for serious collectors.
The value of a coin is in its rarity and general qualities. While all Jefferson coins are valuable, it is possible to find others that are of more importance than others.
Jefferson's coins have been in minting since 1938 up to the current years. All these periods have seen rare qualities exist. Could treasure be hiding in your piggy bank? Read on to find out the most valuable Jefferson nickels of all time.
---
1. 1938 – D Full Steps
The value of the 1938 – D Full Steps in 2022 was $33600. The coin was the first to be issued by Denver. The nickel bears a clean, lustrous surface that yields dusky amber-gold toning with iridescent wisps. Because it was the first to be released, the coin is the oldest of all currencies.
---
2. 1949 – D D Over S Full Steps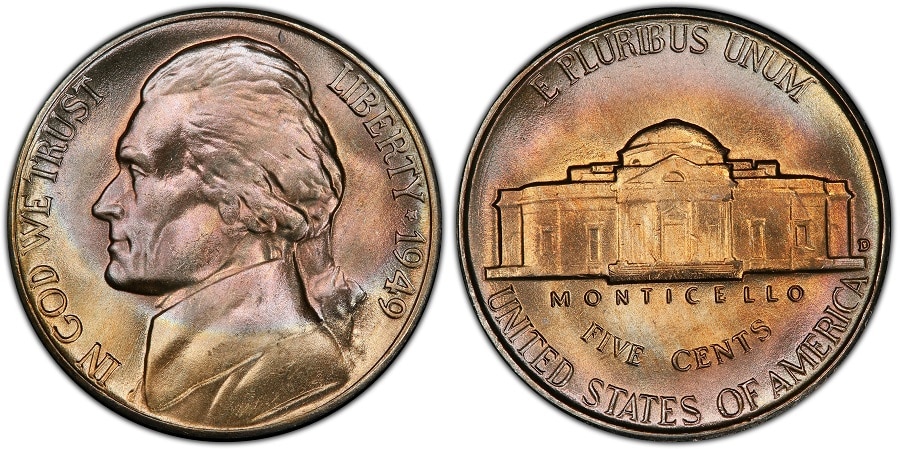 San Francisco circulated the 1949 nickels' die to Denver to fulfill the demand for nickels in the Midwest. The die was used to stamp the nickel, but D was over-stamped, indicating the mint. The over-stamping makes this nickel unique and rare. In 2014, this coin sold for $32,900.
---
3. 1942 – D D Over Horizontal D
The coin is the rarest of the mint state's ten wide Jefferson varieties. Only ten pieces of this coin have been certified by PCGS in all Mint States. The coin has a Denver Mint Stamp with a horizontal D and an average D over it. An example of the mint was sold in 2006 for $32 200.
---
4. 1940 Reverse of 1938
In 2011, the version of this coin was sold for $28,750. It was a PR68 PCGS with ice-blue, pink-grapefruit, magenta, and apricot colors. The coin is 50 times rarer than the 1940 reverse variety.
---
5. 1953-S Full Steps 
Even though it is a BU coin, most are struck from worn dies. The currency is a warm glowing tone at the surface. Its margins are blurred and have heavy erosion common to the tissue and its most interior parts. It also exhibits softness but with sharpness at the bottom.
---
6. 1939 Jefferson Nickel Reverse of 1940 
The most notable feature of this coin is its solid and straight steps. The version of this coin minted in 1939 was valued at 0.17 US dollars at average condition, but when uncirculated, it was worth 13 dollars. In 2014, the coin sold for $23,500.
---
7. 1964 Full Steps With Satin Finish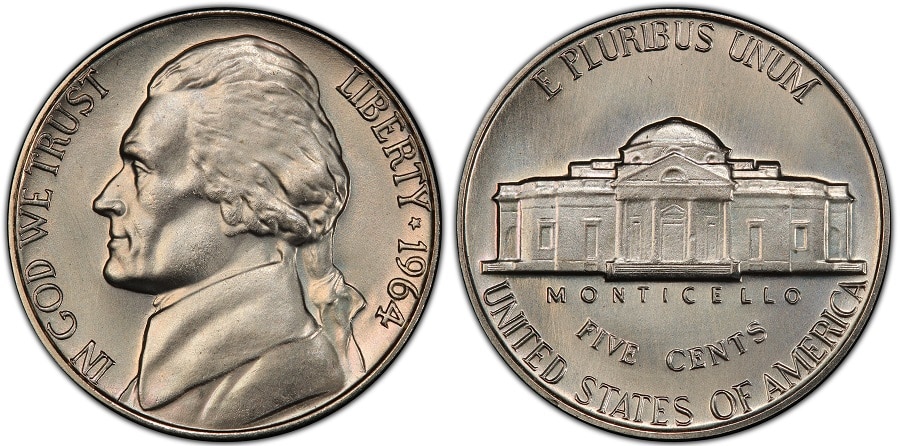 This satin finish nickel is a Superb high-end gem with a delicate tinge of light champagne over the sharp devices and flawless fields. The PCGS classifies this coin as a one-of-a-kind mint set currency with mint packaging. The 1964 Full Steps With Satin Finish is a scarce coin. As of 2019, one examples of the coin was  sold for $22,800.
---
8. 1962 Full Steps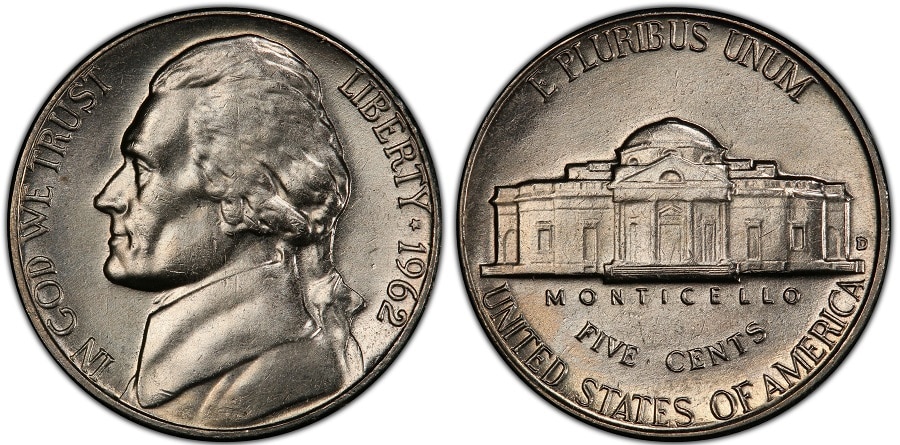 Due to mass production, this coin is widespread, and its value could be higher. The high number of mints meant that they became worn faster. In 2013, the coin sold for $21,150.
---
9. 1939 Doubled Monticello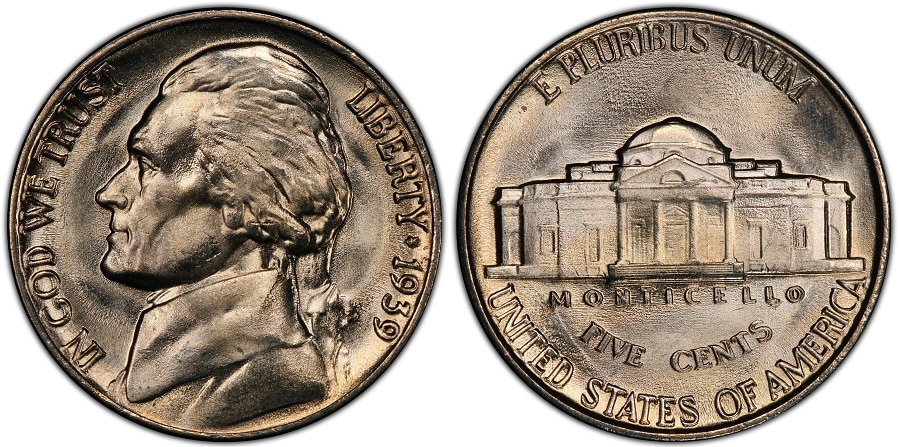 This coin contains unique features of double stamping, hence its name. The stamping is shown in the word "MONTICELLO" and in "FIVE CENTS." The nickels are in rare condition and sold for $20,562 in 2016.
---
10. 2000 – P Two-Headed Nickel 
The coin causes an intriguing minting error. On the blank coin, there is a strike twice and a planchet. It is a scarce coin and can provide an obverse and reverse view. Jefferson's nickel sold for $20,520 in 2018.
---
11. 1964- D Repunched Mintmark
The Denver mint produced the coin in 1964. The coin bears a double marking at the back. The coin is rare and one-of-a-kind, and its double-marking makes it even more valuable.  Only eight versions of the coins have been identified; one sold for $800,00 in 2022.
---
12. 1941 Proof Minting
Although this coin was rare during production, most entered circulation. Some were set aside for collection, most of which were to be minted. One of its versions was sold in 2013 for $18,800.
---
13. 2007 George Washington Dollar Over Jefferson Nickel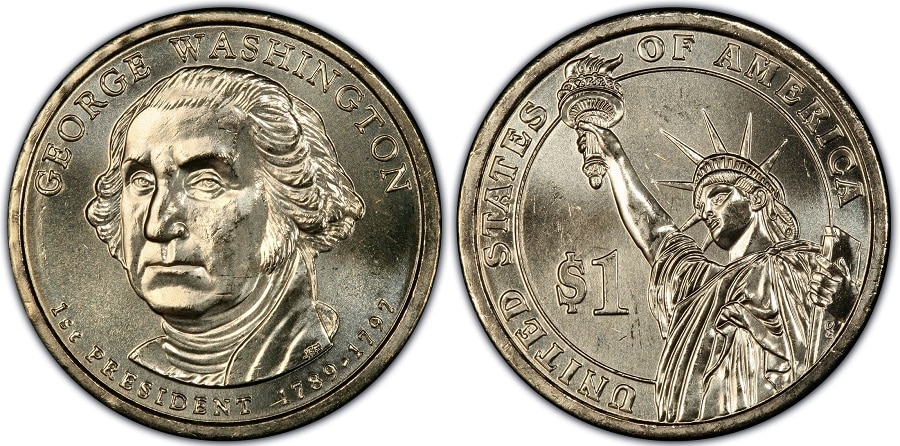 The 2007 Jefferson nickel is a recently minted coin made during a dramatic era. The 2007 George Washington dollar was struck on top of the Jefferson nickel. Even though it was just recently made, the coin still bears a higher value than other previously made Jefferson nickels. The coin was sold for $17,625 in 2016.
---
14. 1953 Jefferson Nickel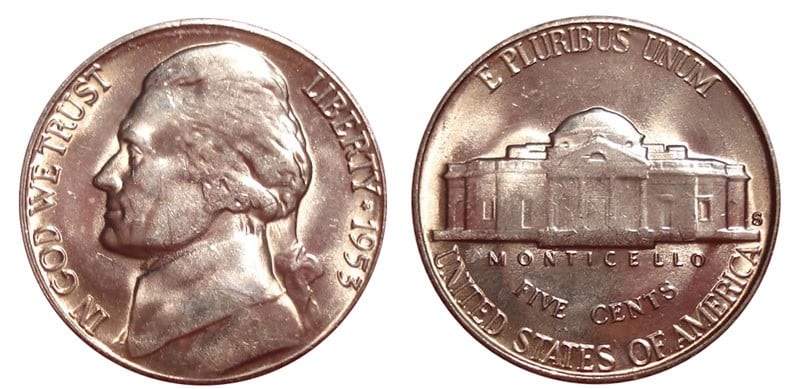 This unique Jefferson was auctioned for $15,275 in 2013. The nickel is of high quality and was produced in 1953. It also belongs to the Pre-War composition of nickels minted in Philadelphia.
---
15. 1947 S Jefferson Nickel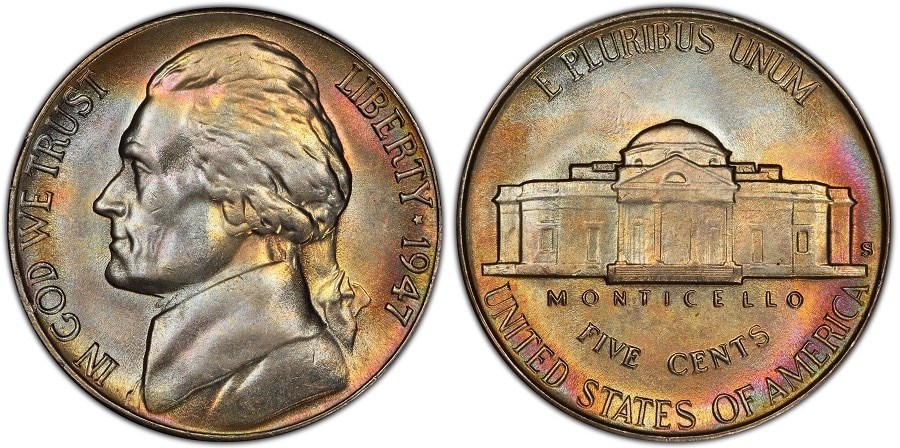 This coin has been abundant in variants and graded frequently. At the grading center, over 24 examples of the coin have been presented and examined. It has also been sold at reasonable prices over the years. In 2007, the MS67 Full Step was sold for $14,950.
---
16. 1952 S Jefferson Nickel 
All three mints created and distributed the 1952 Jefferson nickel. The nickel is not rare; getting your hand on it isn't difficult. The coin is also very affordable and can be easily seen. The coins are actioned at $9,488, according to PCSG.
---
17. 1945 P Jefferson Nickel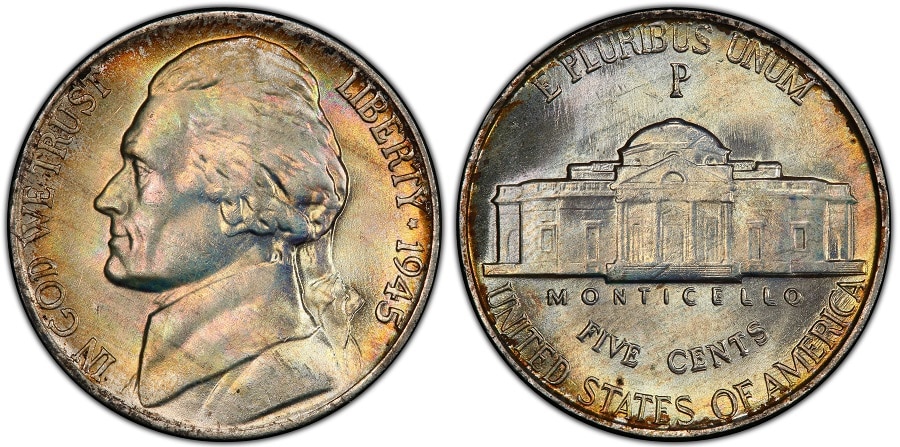 This coin's value has mainly been determined by its quality and condition. It belongs to wartime compositions and does not have mintmarks. The PCGS graded the coins as MS67+ and was auctioned for $11,500.
---
18. 1956 Jefferson Nickel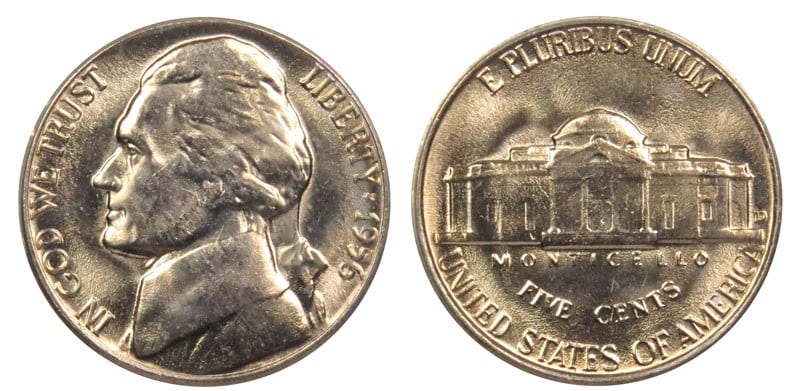 This nickel was minted in Philadelphia, but still, the value appreciated. The PCGS graded it as MS67 Full Steps and was auctioned for $9400 in 2015. The coin is of high grades and finding it is challenging.
---
19. 1939 D Jefferson Nickel 
These are the double dies kind of nickels. The doubling is evident in the word "FIVE CENTS" and is shifted towards South East. The coin sold for $26400 in 2019.
---
20. 1944 P Jefferson Nickel
This coin was produced during wartime when metals were scarce. The coin has a P mint painting mark and is rare. They have become scarce over time, and only 68 examples are known. On Jun 14, 2011, the coin sold for $7475.
---
21. 1963 D Jefferson Nickel
Although this coin is relatively scarce, it has Full Steps characteristics. The PCGS books show that the coin should be selling at 523 to 3000 dollars, but the coin was auctioned for $9,200 on Jun 26, 2008. The identified grades of this coin include MS-66, which is also rare.
---
22. 1938 S Jefferson Nickel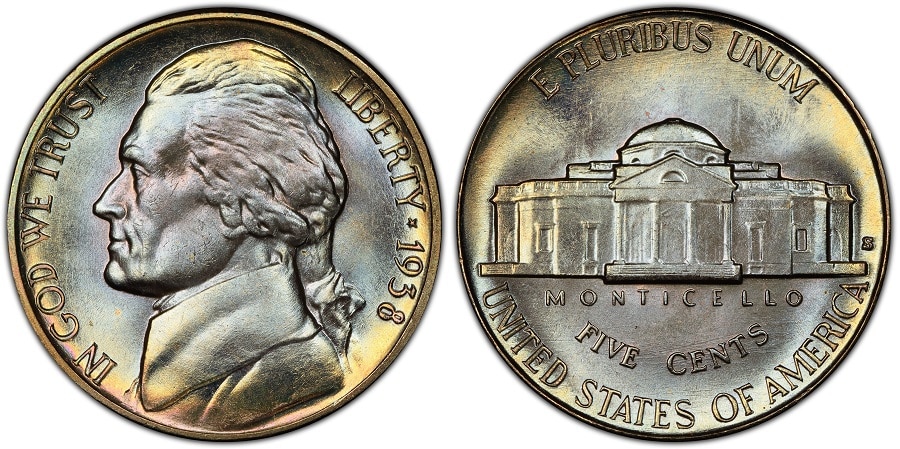 This nickel was minted in San Francisco and was one of its last types. Only some coins were minted at this time, hence less currency circulation. The coin is of extremely high-grade mint and was sold for $9,200 in 2004.
---
23. 1945 D Jefferson Nickel Full Steps
The 1945 Wartime nickel was the last of the five-cent coins before the mint resumed using the five-cent nickel. These coins are abundant in supply, although their versions have become quite scarce; as of Oct 26, 2021, the 1945-D Jefferson Nickel FS sold for $25,000.
---
24. 1958 Jefferson Nickel Full Steps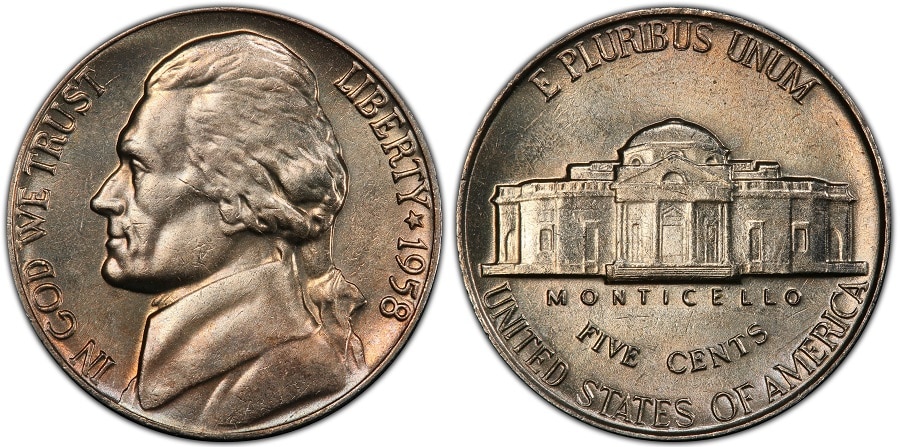 Even though this coin is not in its best condition, it's still of great value. The coin made it to the top 15 most valuable coins list and sold for $13,513 in 2019. The currency is still in circulation, and the uncirculated ones can be worth 7.88 to 27.99 dollars in mint condition.
---
Conclusion
Jefferson's nickels are ancient coins. Since the coins were minted, six generations have been using them. The coins are the most valuable and most loved. All nickels are rare, but Jefferson's remain the most sought-after.