Learning about teddy bears adds experience to your collections, whether for fun or investment decisions. Read this comprehensive guide for complete information on antique teddy bears.
Most antique teddy bears have turned into valuable collections. However, over time, various companies have designed different models that have become antiques today. So when purchasing antique teddy bears, you must know the distinctive features to separate the real and fake ones.
Antique teddy bears date back to 100 hundred years before. They were mainly produced during the years of 1950s and 1940s. However, they are distinctive and made of specific materials that set them apart from other teddy bears. They also come in different sizes, shapes, and colors and are produced in different countries.
---
Antique Teddy Bears Identification and Valuation
While valuing antique teddy bears, it is worth noting that they have distinct features that set them apart. They vary in age, shape, distinctive eyes, and even fabric material. You can identify and value an antique teddy bear when fully aware of these features. They include:
---
Age
Valuing teddy bears depends on age, but the old teddy bears from the 19000s are of the highest value. Their value will also be better if they have boot-button eyes or shiny silk sidings. Chunky cotton teddy bears from WW1 are also popular but unique and of high value. The best teddy bears are;
Teddy bears from the early 1900s – Go for the golden teddies with flat limbs and triangle heads. They are usually about 19.5 inches tall and possess pointy ears and black eyes. Some of them also do not have labels. So look for cross stitches, felt lips, and rough wool stuffing. When you find such, they usually go for $1000 – 1500.
1910s Teddy Bears – They are short and stout and have button eyes and round tummies. These teddies are also of cotton and might also have logos and labels. Their price is around $700 to $800.
The 1940s Teddies – The teddy bears of this era were made during the great economic depression. Most of them are lightweight and have cheaper kapok stuffing. They also have cotton and mohair lining. Their price ranges from $600 to $1000.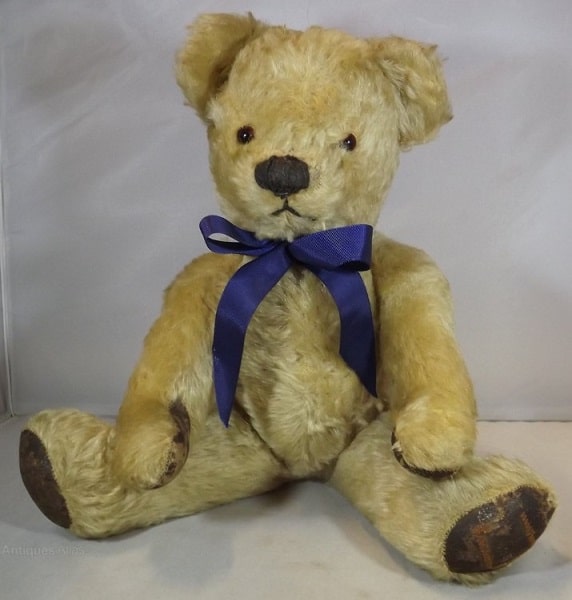 The 1950s Teddies – These commercial teddies are seamless and are made of cotton. They are also easy to track and have unique product codes. Their value depends on these product codes.
For example, a teddy bear with product code ISA – 107A will go for $300 to $ $400. One labeled HYGA NA will go for about $100 to $120, while that labeled ALPHA will go for about 4400 to $500.
---
Body Structure and Shape
The Body structure of teddy bears largely depends on age. The design had changed from inception and can help date when it was made. The earliest teddy bears had a pointed snout and longer limbs. Those made in 1950, 1960, to 1970 have shorter, stumpy limbs and unjointed splayed arms. The early bears were jointed with cardboard or metal discs and an attachment of metal pins.
Their prices depend primarily on the shape and body structure. For example, the elongated body and triangular face antique teddy bears cost about $500 to $600. The ones with short bodies and oval faces cost about $350 to $400.
However, other antique teddy bears will go at a much lower price. That is for $70 and below. They include teddy bears with plump bodies and round faces, round muzzles and embroidered smiles, and thin bodies and lipless.
---
Rarity
Even though age and condition largely determine the price of a teddy bear, limited-edition, clothed, or leather-button teddy bears will always cost more. Most of these teddy bears are more extensive and might have a royal origin. Their rarity also makes their cost go 12 – 20% higher.
The rare teddy bears include the Karl Lagerfeld teddy bear that goes for $3687 or more and Snuffles teddy bears that cost $10 000 or more. Others have Rod bear PB28, which costs 12 000, and Diamond eyes, which cost $35 000 or more.
---
The Fur or Fabric
Identifying an antique teddy bear using the fur or fabric it is made of can also be a clue of age. The earliest teddy bears were made from mohair, which was soft and silky. Others were made from acrylic plush and in various colors.
In the 1930 and 40s, most teddy bears were made from sheepskin. Synthetic plushes and cotton have become popular in the latest years. The earliest teddy bears cost around $100 to $120, while the newest are made from synthetic plushes and cotton for about $70 to $80.
---
Where to Buy Antique Teddy Bears?
When you are looking for the best antique teddy bear to bear, there are specific marketplaces where you will find them. While purchasing, it is also important to note that none of these marketplaces guarantee an authentic site, so keep your eyes open during the purchase. These marketplaces include: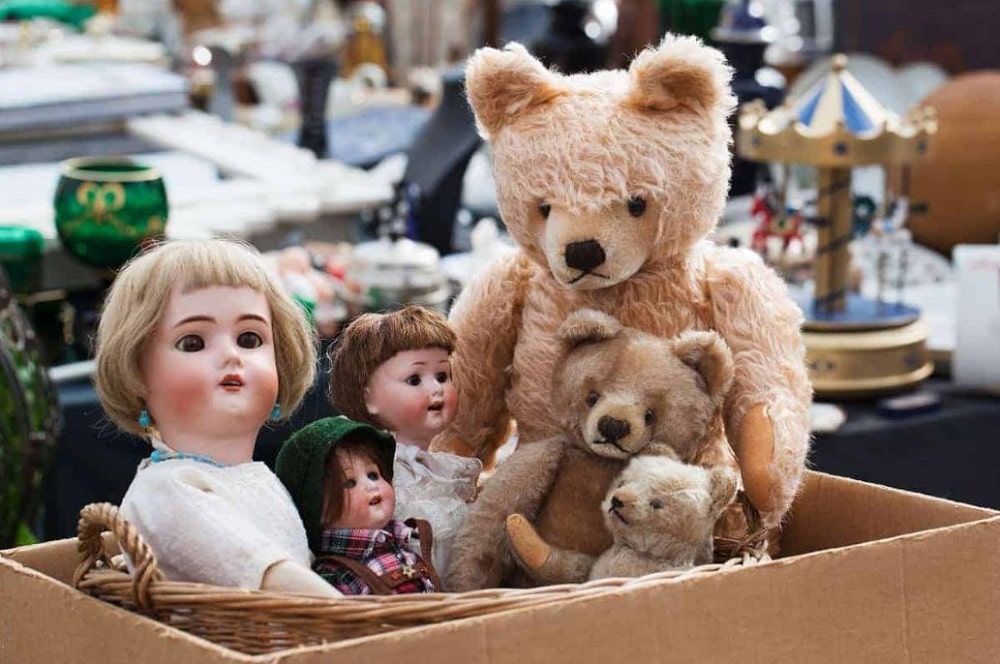 Amazon
It is no surprise that this giant online store sells antique teddy bears. Occasionally, an individual or professional dealer sells antique goods on this platform. Even though Amazon is a popular marketplace, evaluating the teddy bear and checking the reviews of the dealer you purchase from is essential.
---
eBay
If you want to buy or sell any antique teddy bear made by different manufacturers worldwide, this is the best place. Even though it is one of the best marketplaces worldwide, there is still a chance of getting scammed during the purchase. It is because you won't be able to check the teddy bear in person unless the seller is close to you in location.
eBay avails various antique teddy bear models ranging from the recent vintage to the earliest and most antique teddy bears. The only way to buy an authentic teddy bear is by evaluating it and ensuring you purchase what you want.
---
Etsy
Etsy is a popular site known for its hand-crafted objects and DIY work. However, Etsy avails a great collection of antique teddy bears for purchase. The teddy bears here include the oldest Mohair-made from Gund and Steiff and some models from WW2. Keenly evaluate the teddy bear, and buy what you need.
---
Conclusion
After reading this guide, you can identify whether your teddy bear is antique. You can also specify the specific features of antique teddy bears that determine their value. So if you have an antique teddy bear, this is the right time to sell them.
You can also purchase antique teddy bears on sites like eBay, Amazon, and Etsy. But while preparing to buy or sell the antique teddy bear, you must have a price to purchase it at the best price possible.