Are you interested in learning about the most valuable Indian Head Penny? In this article, we will explore some of the rarest and most sought-after versions of this iconic coin. We'll discuss how to identify them, what makes them so special and valuable, as well as their history.
The Indian Head Cent often called a "penny," was introduced in 1858 as a pattern currency and was crafted by Engraver James Longacre. Released formally in 1859, the manufacture of the coin continued until 1909 when the wheat penny succeeded it.
Many coin collectors consider Indian Head pennies among their most valuable pieces. Since some years had limited mintage, they are often collected by date. However, they are also sought after by type collectors and those interested in preserving specific mint marks.
In this article, we'll explain the most valuable Indian head penny and cover everything you need to know about them.
---
The Most Indian Head Penny
Despite being called "Indian Head Pennies," these coins have a Caucasian depiction of Liberty wearing a headdress, more often associated with Native American males of higher social positions.
The piece was minted at an age when Native Americans lost their native lands and were transferred to reserves, where some still reside today. Hence, adopting the Native American freedom theme is very ironic, as observed by numismatists.
Some of the most valuable Indian head pennies are:
Indian Head Penny, 1888, Last 8 Over 7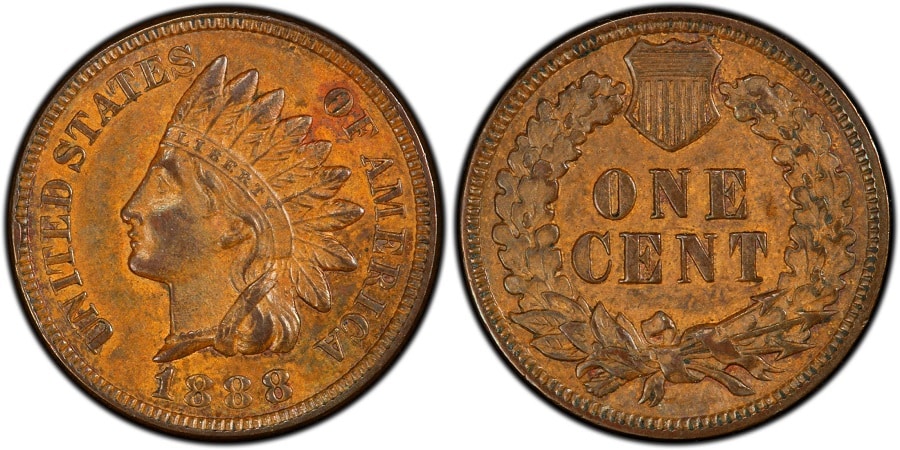 In this penny, the date's last digit, 8, was mistakenly struck over the preceding digit, 7. Although it's tough to see the error, if you look keenly, you can notice the tip of the number 7. In addition, there is a cud beside the phrase "UNITED."
The value of an 1888 Indian Head cent with the final 8/7 error is about $1,650. Coins with a Mint State 60 grade are worth roughly $35,000 in uncirculated condition. Coins having a Mint State 63 grade may fetch upwards of $65,000 on the market.
An astonishing amount was paid for an 1888/7 1C PCGS MS63 Brown Indian head cent in 2007 – it was sold for the eye-watering sum of $74,750!
---
Double Liberty 1873 Indian Head Cent
The double Liberty is a very rare and unique Indian penny. Only a few genuine Mint State copies exist, and they are far more valuable than the circulating pieces. Red coins of this kind are quite hard to come by, and those lives are extremely valuable.
You can see the word "Liberty" embroidered on the crest of the headpiece using a magnifying lens. Looking closely, you should see that this word has been duplicated, signifying a double-die mistake.
According to the USA Coin Book, this penny has an estimated value of $399 in Good condition, $8,510 to $15,118 in Uncirculated (MS+), and more than that in Mint State (MS+) condition.
The most expensive variant of the coin is the 1873 1C Doubled Liberty PCGS MS65 Red and Brown which was sold for an unbelievable $69,000 at an auction!
---
1877 Indian Head Cent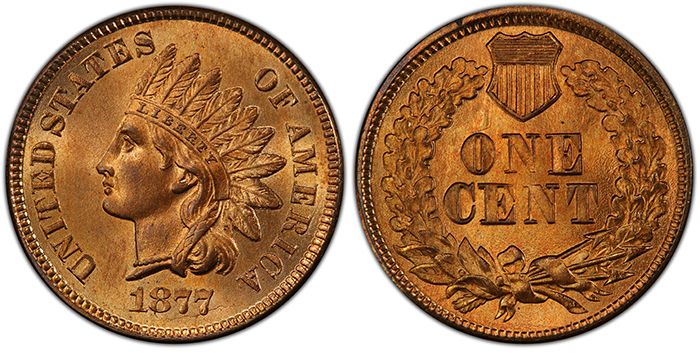 The 1877 Indian Head Penny is the rarest of all circulating coins, and finding one in perfect condition is even more so; therefore, their market value is sky-high.
As stated in the USA Coin Book, an 1877 Indian Head Cent values at an average of $1,226 but may also be worth between $4,333 to $5,126 or more if it is in uncirculated (MS+) pristine condition.
A rare 1877 Indian head cent was sold in 2009 at an incredible price, with PCGS grading it as 'PR67 Red'. It made history by selling for an astounding $97,750!
---
1864 Indian Head Cent, Letter L, On Ribbon
In 1864, the letter L, an abbreviation for "Longacre," the coin's designer, was added to the statue of Liberty's Ribbon, hanging just below her chin. With a possible mintage of just 35 coins, this cent from India is among the rarest in the world. The Snow-PR2 is just the rarest of the three documented types; currently, only seven are known to exist.
You can easily recognize it by its distinctive die lines. One may be underneath Liberty's ear, while others are around the edge of the coin's "tail" side.
It has an estimated value of $107 in Good condition and $481 to $657 in Uncirculated (MS+) levels.
An 1864 L On Ribbon MS Indian head cent was auctioned off for an astonishing $34,075!
---
Shallow N. 1872 Indian Head Penny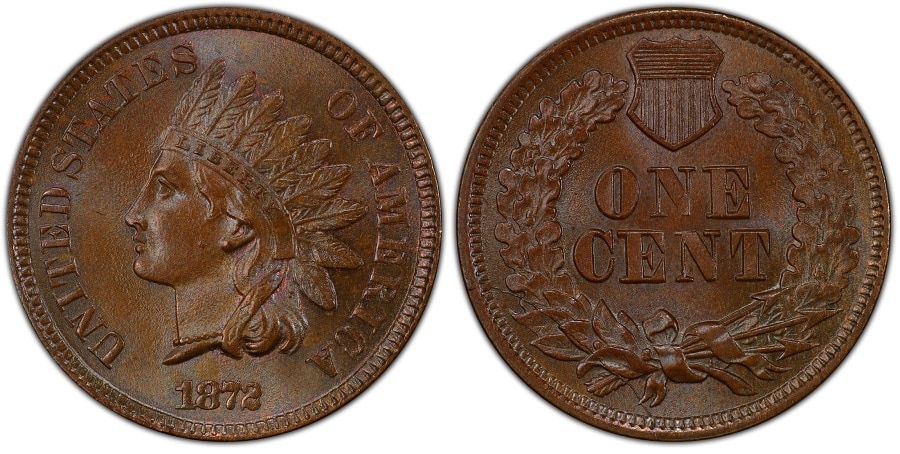 This Indian Head Penny had two major reverse design versions. The "Shallow N" variation had a different hub and die; thus, the "N" in "ONE CENT" were shallower. "Shallow" refers to the N's lack of thickness in 3 dimensions, making it difficult to distinguish from its background.
It has an estimated value in the United States Coin Book of $189 in Fair condition and between $1,082 and $1,388 in Mint State (MS+) if it is in pristine condition.
An 1872 1C PCGS MS66 Red Indian head penny sold for an astounding price of $126,500 in the year 2007!
---
The Double-Dated 1894 Indian Head Cent
The 1894 RPD Doubled Date error is a significant variant of the Indian Head penny. If you use a magnifying lens, you can notice that "94" is repeated twice due to stamping the date over the same date.
The value of a doubled-date 1894 Indian Head Penny may range from $45 in G4 condition to over $1,100 in MS60. However, pennies not certified by the PGS, NGC, ANACS, and ICG have a lower value.
A Red Indian Head coin from 1894/1894, which was graded PCGS MS66 and listed as Snow-1 and FS-301, sold for a record $30,000 in an auction!
---
Indian Head Penny 1909 S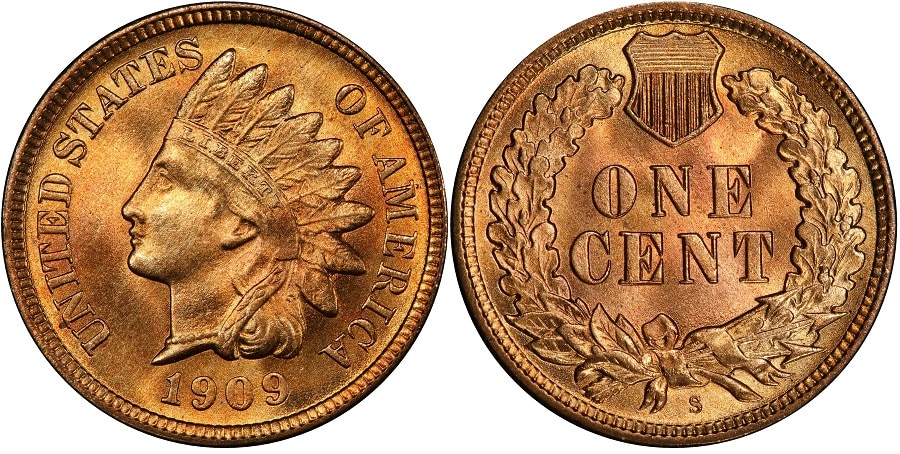 The 1909 San Francisco Mint pennies were the least mass-produced of any Indian Head. Unlike the other pennies, the extremely damaged pieces of the 1909-S Indian Head Cent are the only known rarities. The feather tips on the usual coins could be better struck, and this flaw is one of numerous you can use to determine whether or not the date is faked.
The USA Coin Book values an Indian Head Penny in good condition at $658 and an Uncirculated (MS+) in pristine condition from $1,134 to $1,318 or more.
In 2006, a 1909-S PCGS MS Indian head cent was sold for an astonishing $97,750 at auction!
---
What Year of Indian Head Penny Has The Highest Value?
Typically, the value of Indian Head Pennies exceeds their face value. Collectors will find the year 1877 particularly intriguing due to the limited mintage of 852,500 pieces and the use of a single die for their production. Even so, Indian Head Pennies from any year, including 1905, are valuable collectibles.
---
Is It Possible to Identify a Fake Indian Head Penny?
Yes, you can easily identify a fake Indian head penny by the appearance of the date's digits. The numbers often need to be more balanced, twisted, and attractive. However, some forgeries are so realistic that you can only discover them by inspecting die markings.
---
Is There a Mobile App that Can Determine the Value Of Coins?
You can use Coinoscope, a graphical search engine focusing on coinage. Take a photo of a coin using your phone's camera, and the Coinoscope app will display a list of coins that seem similar to the one you snapped. If you tap the coin, your phone's web browser will reveal further details.
---
Conclusion
James Longacre designed the Indian Head Cent, introduced in 1858 as a pattern currency. Some of the most sought-after Indian cents include the Double Liberty 1873 Indian Head penny, the 1877 Indian Head penny, and the Shallow N. 1872 Indian Head Penny. Verify the minting dates before you purchase a penny to be sure you're getting a real one.