Are you a sports card collector looking to add to your collection? Whether you're a longtime Shaq fan or a newcomer to the world of sports card collecting, you won't want to miss this comprehensive guide to the most valuable Shaquille O'Neal rookie cards on the market.
If you are a card collector, you may have heard of Shaquille O'Neal cards. Shaquille O'Neal was a towering NBA legend with a resume that most basketball players can only dream of.
He is among the most accomplished players who have dominated LSU and the NBA. His legendary status and popularity have made his rookie cards one of the best-selling in the market. The cards sell out despite their massive production. Read on for more information on the 10 most valuable Shaquille O'Neal rookie cards.
The Shaq O'Neal cards were designed in 1992 before the sports card companies started printing short cards and refractors. So Shaquille's cards may not be the shiniest in the market, but they are still collectable. The cards are made of gems, making them last for a long time. Due to the high printing of Shaquille O'Neal's cards, they may not be expensive.
---
1. Shaquille O'Neal Metal Universe #50, 1997 Precious Metal Gems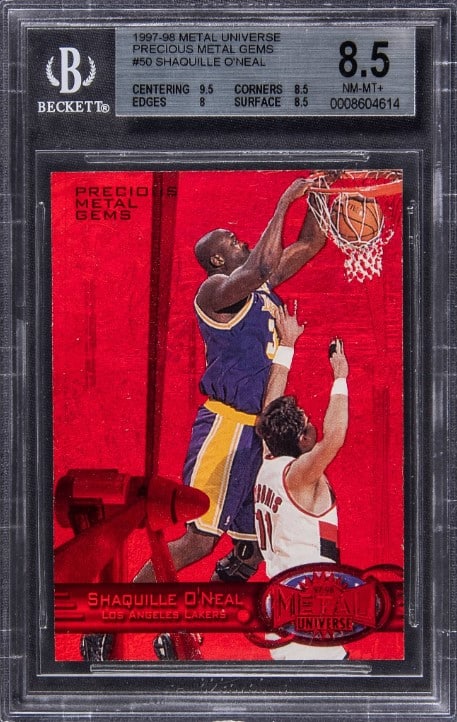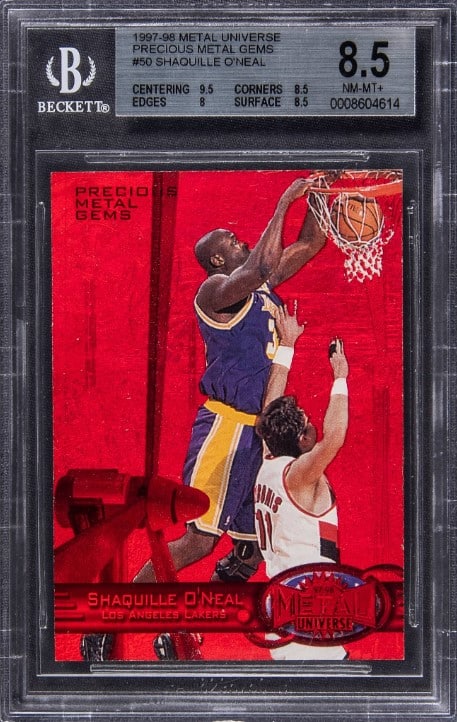 With only 100 copies in circulation, this Shaquille O'Neal card is the most unique card on the market. Its low print run and sound design make it the best card to invest in. Metal Universe shows a photograph of Shaquille O'Neal as he dunks customarily, backed up by a red foil that is red and is also crisp and can flake immediately. The card was produced with a green and red foil that is flat. It goes for about $15 990
---
2. 1992 #21 Stadium Club Beam Team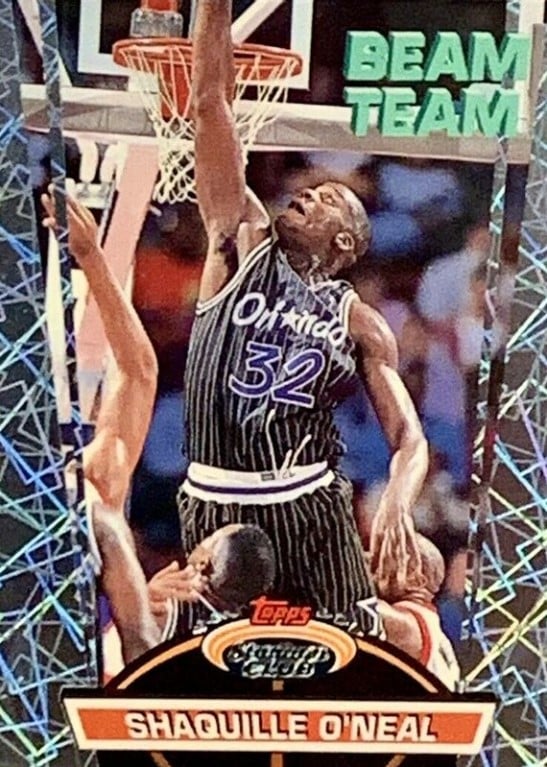 The Beam Team from the stadium club is a dream of the 90s that is still alive today. The card has a high monetary value, and one of the PSA Gem Mint 10 grading items was auctioned off for $20,731 in 2021. This Shaq's card is of a design from the 1990s. It has a vintage design that has multicolored squiggly line borders. The term 'beam team" is written in a neon slugged-green colour.
---
3. 1992 Shaquille Upper Deck Rookie Card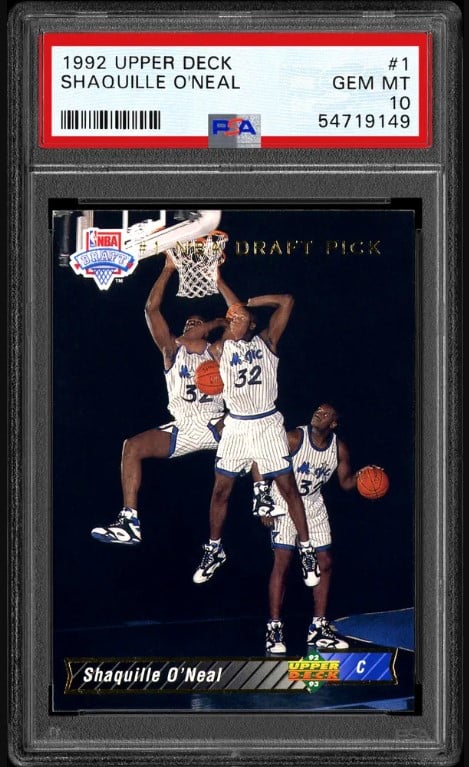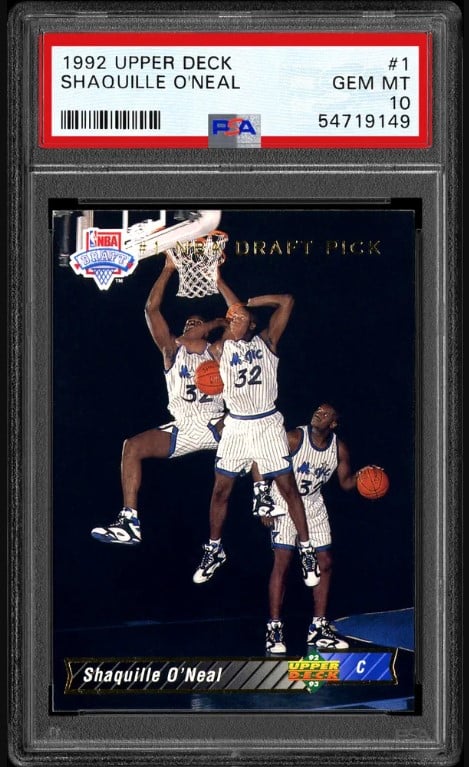 The Shaquille upper deck card is one of Shaquille O'Neal's most designed cards. The card is a perfect blend of creativity and sharpness. It has a photo of Shaquille where he is wearing his white jersey, and there is a black background. The card goes for around $2,500.
---
4. 1998 #12 Shaquille O'Neal Fleer Playmakers Theatre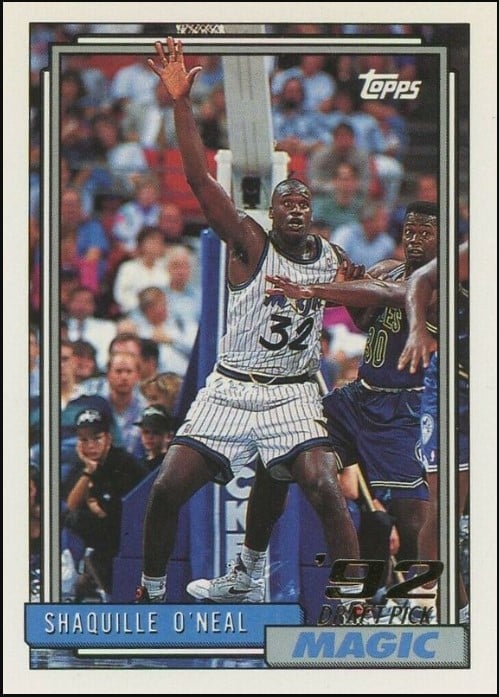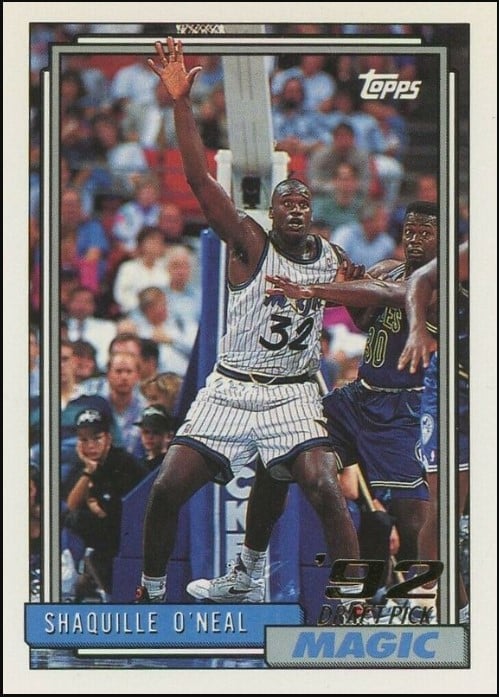 The card is one of the earliest numbered inserts to feature Shaquille and is in the 1998–99 Fleer Playmakers Theater subset. Its design is classic. It has vertices that are surrounded by gold chrome and intricate details. At the centre is the photograph of Shaquille as he dunks with his yellow Lakers jersey. The Fleer logo and serial number are also in the top right corner. The Fleer Playmakers card is very rear and costs about $4 383.
---
5. 1992 #362 Shaquille O'Neal Topps Gold Rookie Card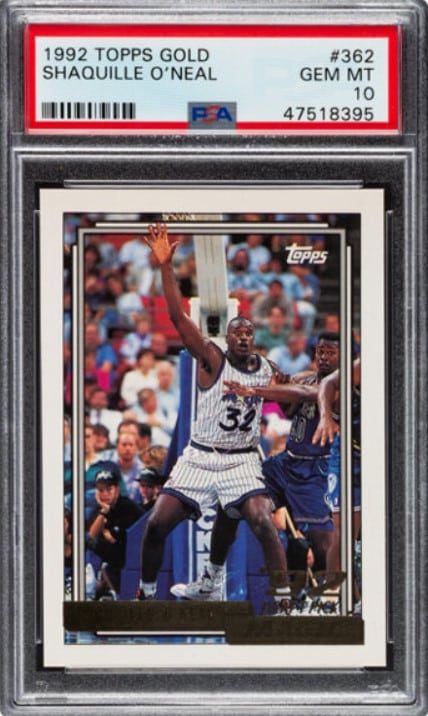 The 1992 Topps card is one of its most valued cards of Shaquille. It is the most popular card of Shaquille and has over 2900 grades of these cards in circulation. Even though the number of these cards has reduced its value, this card is still an absolute must for most collectors. For its design, this card has a clean cut with a sharp white border and a picture of Shaquille. 1992 Topps card goes for around $2000.
---
6. 1997 #4 Shaquille O'Neal Ultra Stars Gold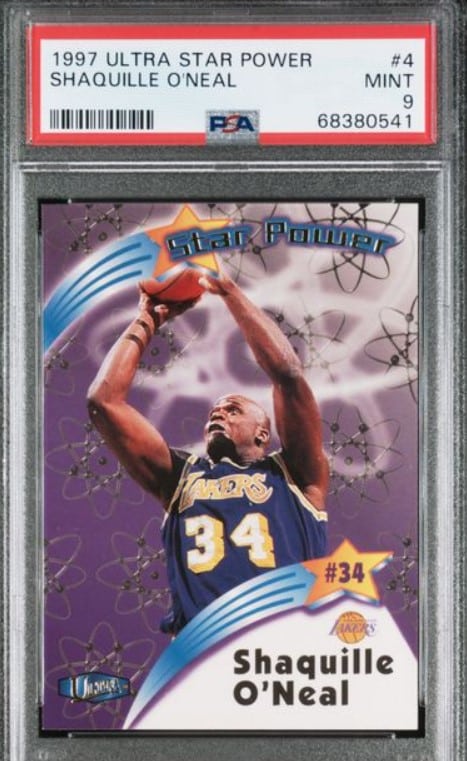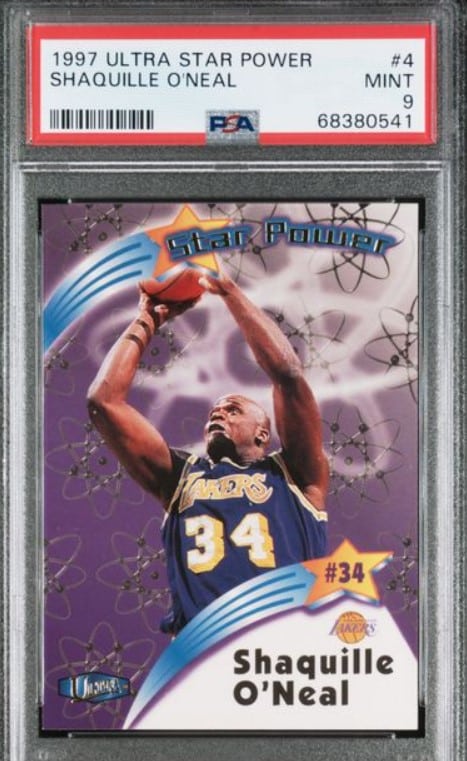 The Ultra Stars Gold card of Shaquille O'Neal is one of the rarest cards in the market. Almost 10% of these cards have a gold foil wrap. Its design is quite simple; it has the image of Shaquille as he looks up towards the basket. It also has the "Ultra Stars" logo at the top. Its full-bleed edges and chrome wrap make it even more expensive. Even though this card is scarce in the market, at some auctions, it goes for about $4 981.
---
7. 1997 #7 Shaquille O'Neal Flair Showcase Row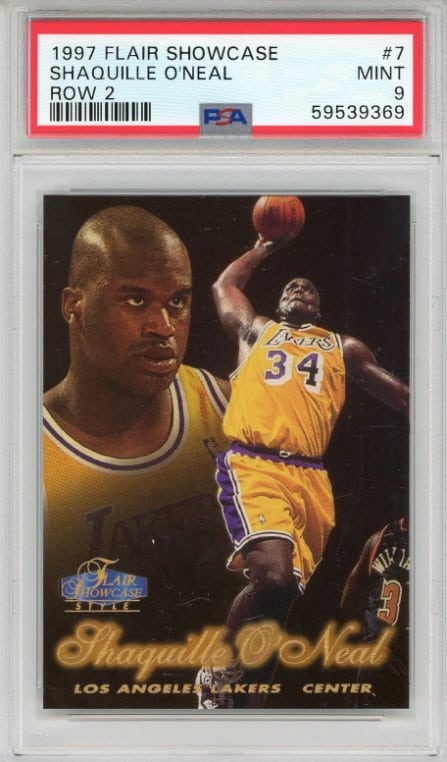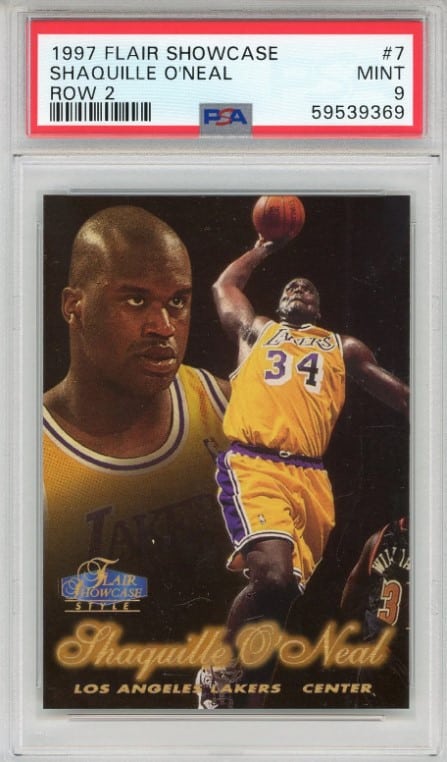 The 1997 O'Neal showcase is part of the hobby exclusive with a rare parallel. The card has three rows containing cards for each player and a Row of 0. The row cases make the card unique as it is the only card with such a feature. The row of 0 is a particular row that represents the greatest basketball player of all time, Shaquille O'Neal. The card has an image of Shaquille dunking in his Lakers jersey. Due to its low print value, this card is expensive and goes for $3000.
---
8. 1992 #150 Topps Archives Gold Shaquille O'Neal Rookie Card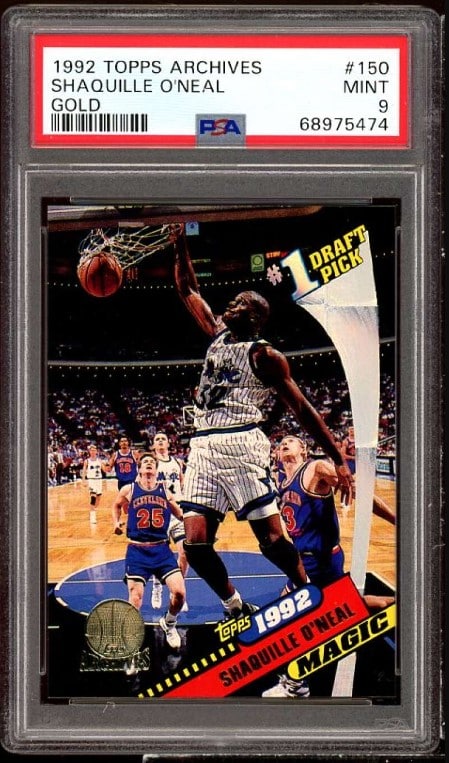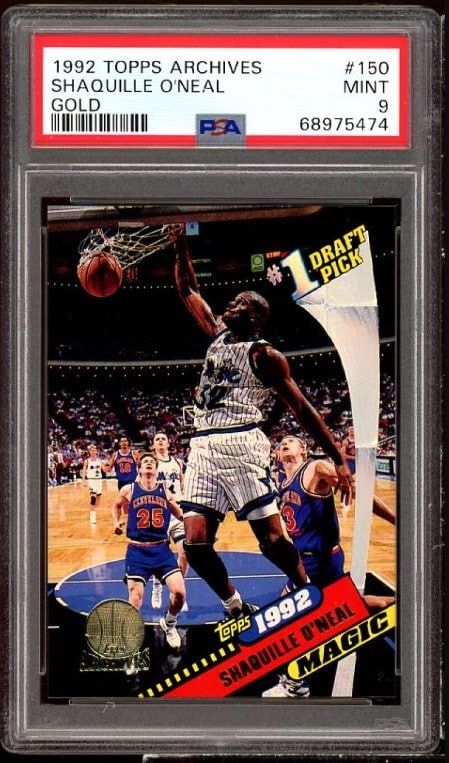 The rookie card from the Topps is from the 1992 Archives card series. Its design is of the Topps baseball card set with regular and gold card versions. The card has a photograph of Shaquille as he is dunking at the ball. It also has his name and a lovely gold Archives logo alongside the name. Topps Archives Gold is a high-value card for about $3 295.
---
9. 1992 Classic Draft Shaquille O'Neal Rookie Card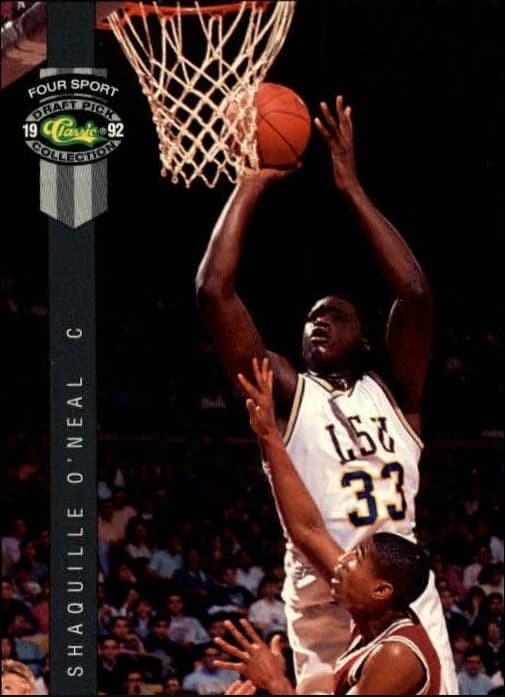 Due to its rarity, this card goes for $3 349. It was released as part of the 100-card base set during Shaquille's rookie year. The card has a straightforward design. At the front is the image of Shaquille in his trademark dunking pose as his legs are in the air. The card has a white border and the 1992 Draft Pick logo. It also displays Shaquille's name and position.
---
10. 1992 #247 Stadium Club Members Only Rookie card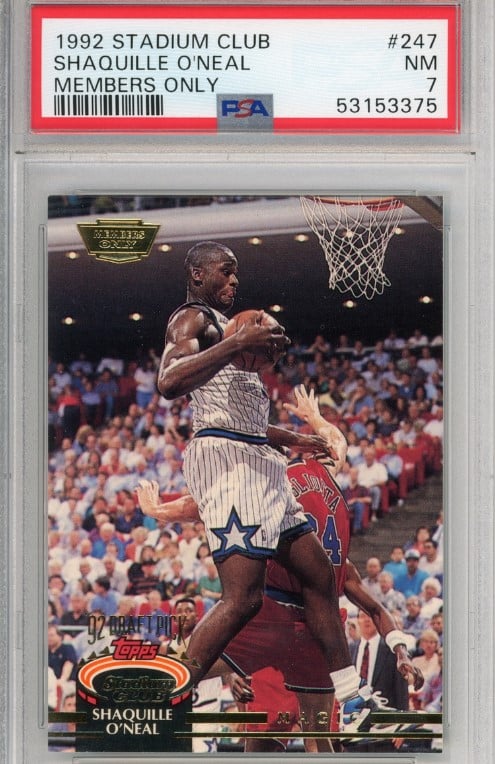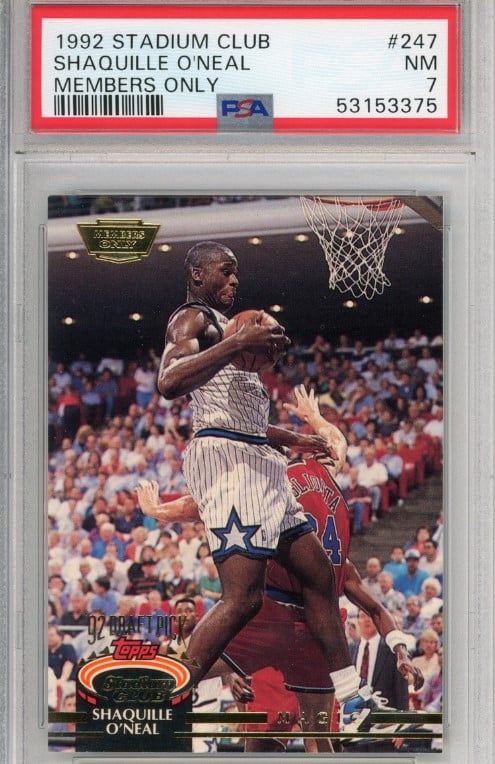 This card was printed and sent to the Stadium club members in 1992. It has a unique design of a photograph of Shaquille as he dunks in the air while wearing his Orlando jersey. At the top right is the gold members-only stamp, and at the bottom is the club logo. Its back has the physical characteristics of Shaquille and a skill rating table. The card goes for about $2375.
---
Conclusion
Shaquille O'Neal's cards remain among the most valued even after his retirement. The value of these cards remains static, while some have slight bumps around significant events. It is still wise to invest in Shaq cards because their value remains static and will eventually rise with the tides.
His popularity and previous successful career ensured that his cards remained relevant to collectors even after he retired. So if you are looking for Shaquille O'Neal's cards to sell, you are going for the best investment.