Has the value of money ever seemed arbitrary to you? It's hilarious how millions of dollars can be paid at auction for a coin with only a face value of $1. Here, I will take you through the most valuable one-dollar.
Are you aware that most one-dollar United States of America Liberty coins rarely circulate? For years, The United States Mint only offered direct coin sales to collectors and dealers. Despite the dollar coin's enigmatic appearance, most are common and only worth one dollar each. Nonetheless, some dollar coins are worth more than their face value.
In 1794, the United States Mint began producing the first silver dollars. Silver dollars were circulated continuously from the late 1700s to 1935, with only a few brief interruptions.
In 1935, the United States stopped minting silver dollars for general circulation. Silver was initially used in the Eisenhower (or Ike) series, which revitalized the $1 coin series in 1971, but now only limited-edition Ikes contain silver.
Even though the last Susan B. Anthony coins are silver in color, they have no actual silver. Although Sacajawea and Native American dollars look gold made, they were not. Therefore, it's advisable to understand which dollar coins are precious and worth money. Therefore, let's start with a brief history of dollar coins.
---
History of United States Dollar Coins
The U.S. Mint has been producing $1 coins since 1794. The first silver dollars were known as "flowing hair" dollars. In 1796-1803, the Draped Bust dollar was introduced. Liberty and an eagle were depicted on 1804 silver dollars; these coins are known as "Gobrecht dollars."
The Morgan dollar was developed from 1878 to 1904 and again in 1921; after that, the Peace dollar was produced between (1921-1935). The Eisenhower dollars were produced between 1971 and 1978. After which from 1979 to 1981 The Susan B. Anthony dollar was produced and again in 1999.
In December 2005, President George W. Bush signed the legislation authorizing the production of the presidential dollar coin. These dollars commemorated the accomplishments of deceased U.S. presidents. For a president's face to be on a coin, they should have died at least two years ago.
The Mint's production of these coins is directly proportional to their value. Dollar coins with mistakes are better than those in circulation, which only have face value. The first Presidential dollar was published in 2007, whereas the first Native American dollar was issued in 2009.
Note that the value of a coin is also affected by its rarity and the significance of a coin by representing a specific event. Without further ado, read about which dollar coins are worth money.
---
Ancient Dollar Coins Worth Money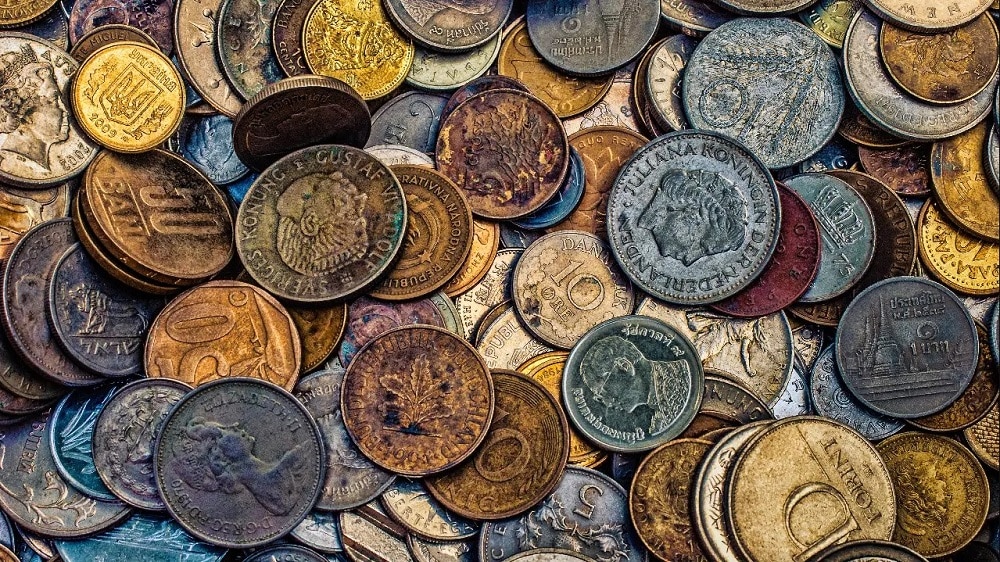 After years of design, the Eisenhower Dollar debuted in 1971. Collectors need help identifying this coin due to its various metals and varieties. Three reverse die varieties were used in 1972, with the Earth above the eagle differing the most. The reverse of the coin depicts an Apollo 11 mission badge.
Susan B. Anthony Dollar was founded in 1975. The first proposed coin design was Lady Liberty, similar to the Liberty Cap and Flowing Hair designs. The Chief Engraver designed prototypes with an 11-sided border to distinguish the coin from the quarter.
Afterward, Congress agreed to a new small-dollar if Susan B. Anthony was depicted on it. After much deliberation, Anthony was chosen for the coin. The reverse of the coin depicts Apollo from Eisenhower Dollars. Here are the ancient dollar coins worth money
---
The Flowing Hair Silver Dollar of 1794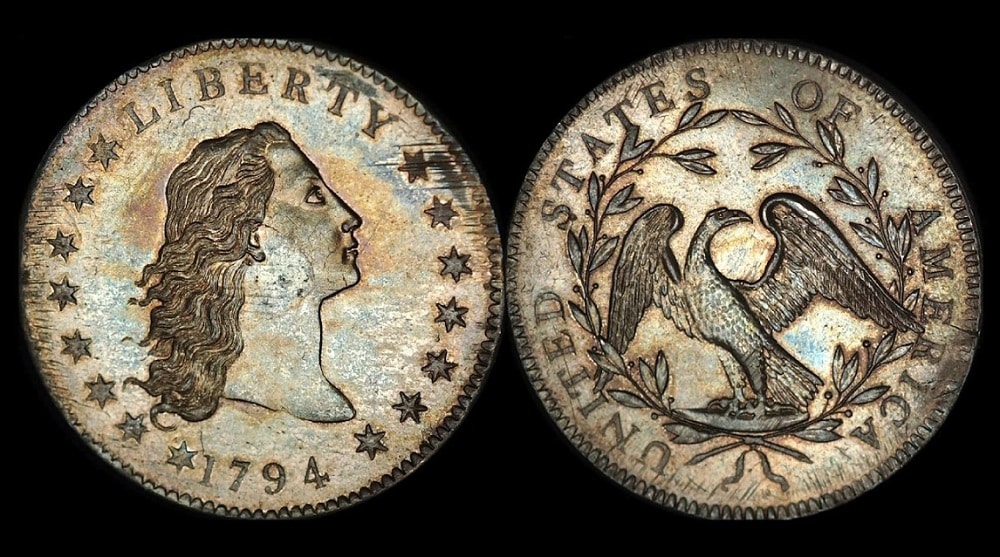 At present, the 1794 Flowing Hair Silver Dollar is the most expensive coin. It was the first United States minted silver dollar. Lady Liberty's sweeping locks adorn the front, while an eagle proudly displays on the back.
Only about 1,800 of these coins were minted in total and one expert estimate that only about 120-130 are still in circulation today, making them exceptionally rare. In 2013, the coin fetched just over $10 million at auction.
---
1804, Draped Bust Dollar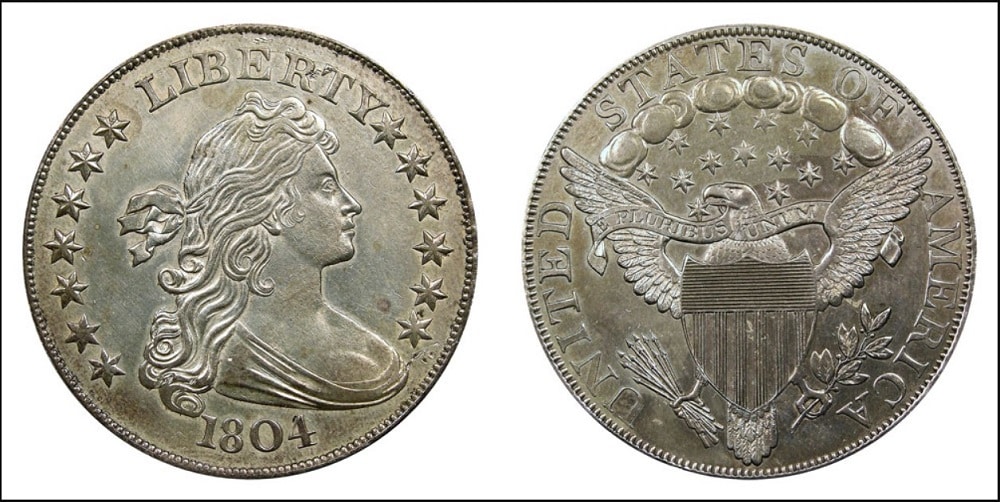 In 1795, Robert Scot designed the coin, depicting a young Liberty with ribboned hair to replace the flowing hair dollar. The reverse features a redesigned eagle from its predecessor. The Pluribus Unum banner is in the beak of this eagle.
The most valuable draped bust dollar is the 1804 "Beetle Wing" dollar. Class II and III 1804 $1 restrikes are valuable but less than the original. There are few draped bust dollars. The most expensive coin ever sold at the most was in 2021; Stack Bowsers sold this coin for $7,680,000, which was not bad considering "PCGS" suggests $8,750,000 for the coin.
---
1885 Trade Dollar (T$1)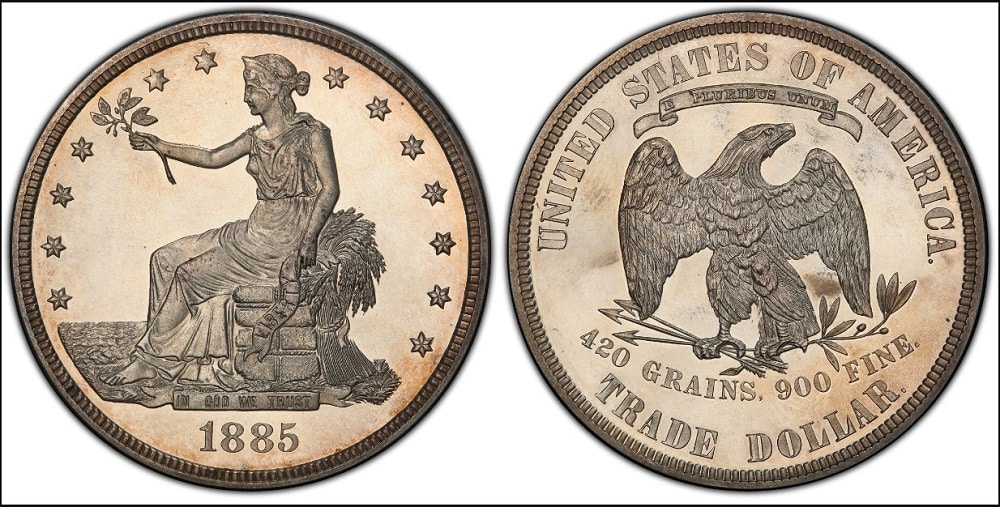 William Barber designed the Trade dollar and Liberty Head nickel. It was minted for trade with the Orient from 1873 to 1885. 90% silver and 10% copper.
The trade dollar was challenging to strike due to the high relief. The majority of coins minted were poorly struck and melted. The Mint reduced the silver content from 90% to 77% in 1876, making foreign traders less interested. The coin was retired in 1885.
Despite their short lifespan, trade dollars are valuable. A proof specimen fetched $3,960,000. In 2021, the coin sold for $2,100,000, but it was of lower grade (PR63 vs. PR66).
---
Seated Liberty Dollar, 1870-S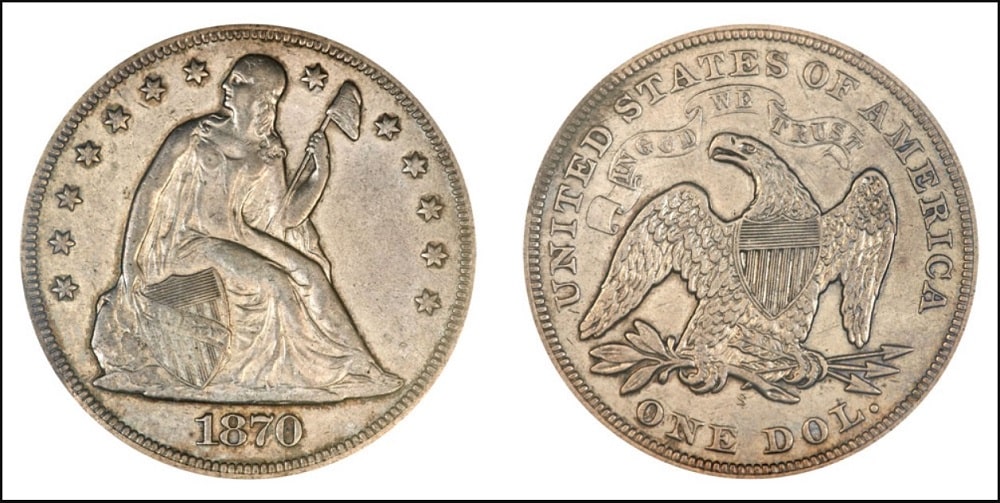 Christian Gobrecht designed the 1840-1873 seated liberty dollar. The coin depicts Liberty seated, holding a shield, whereas its reverse depicts an eagle perched. The seated liberty dollar was not made of gold due to the high price of gold at the time. The weight of the 90% silver coin was 416 grains (26.73 grams).
This coin is valuable even in lower grades. A 40-graded one can set you back $805,000. A BU was sold for $1 million by Stack, where B.U. Stands for "as good as new."
---
Proof Restrike of 1801 Draped Bust Dollars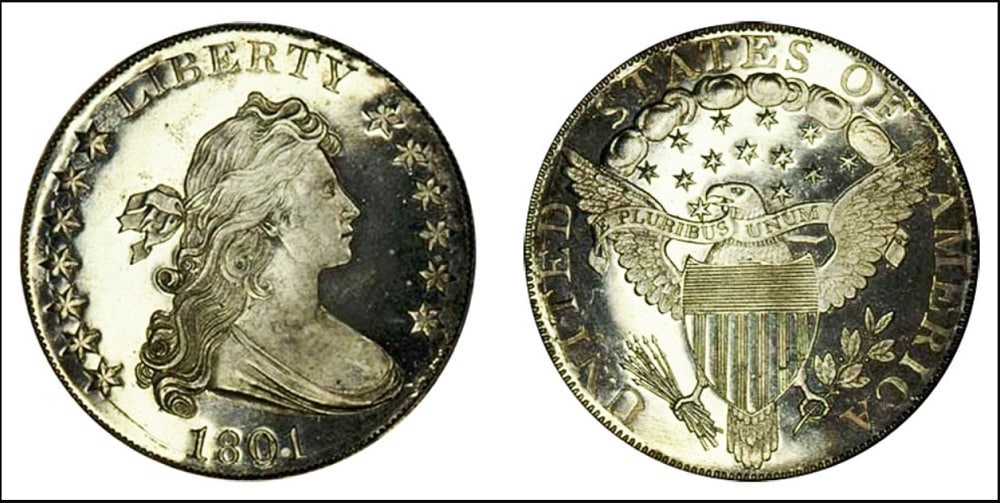 Robert Scot designed the 1801 draped bust dollar. Proof restrikes coin was intended to resemble 1801 coins. However, it did not have the original dies making it a Novotel.
It has a draped Liberty figure and the word 'Liberty.' The reverse of the coin depicts a spread-winged eagle. This coin has not recently sold, but it is valued at over $1 million by USA coin book and PCGS.
---
Small Date/Letters 1796 Draped Bust Silver Dollar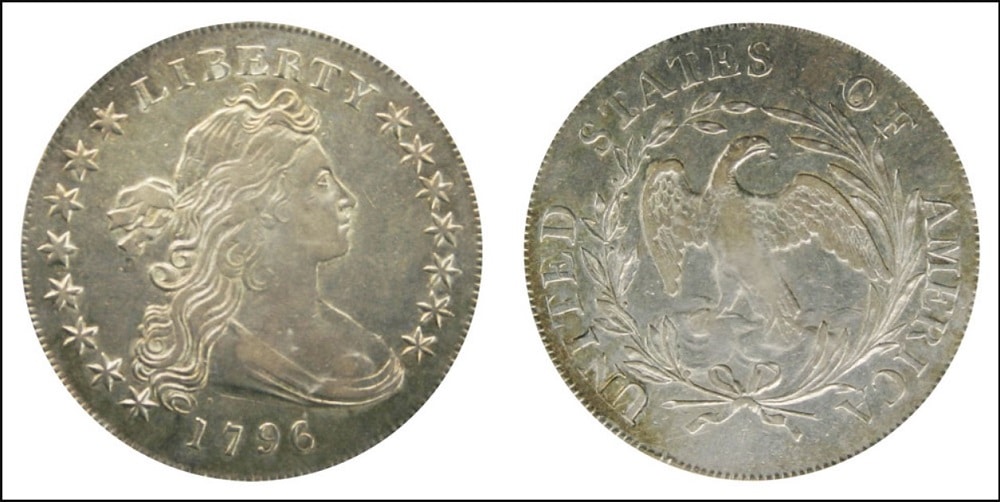 This is the scarcest United States coin with a content of 89% silver and 11% copper. The coin's obverse (front) depicts a draped bust of Liberty with a small date, small letters, and an outstretched bald eagle on the reverse (back). The coin was produced in two sizes, with two different dates and letter sizes: small and large. Coins with rare dates and letters are more valuable.
---
Modern Dollar Coins Worth Money
In 2000, a Sacagawea dollar was made for the first time. The Native American $1 Coin Act of 2008 required a change to the design to honor Native Americans and "their contributions to U.S. development."
The act also said that the edge of each coin had to have the year of making published on it, a mint mark, and the words "E Pluribus Unum." Here are modern dollar coins that are valuable:
2007-P Washington (Broad Strike)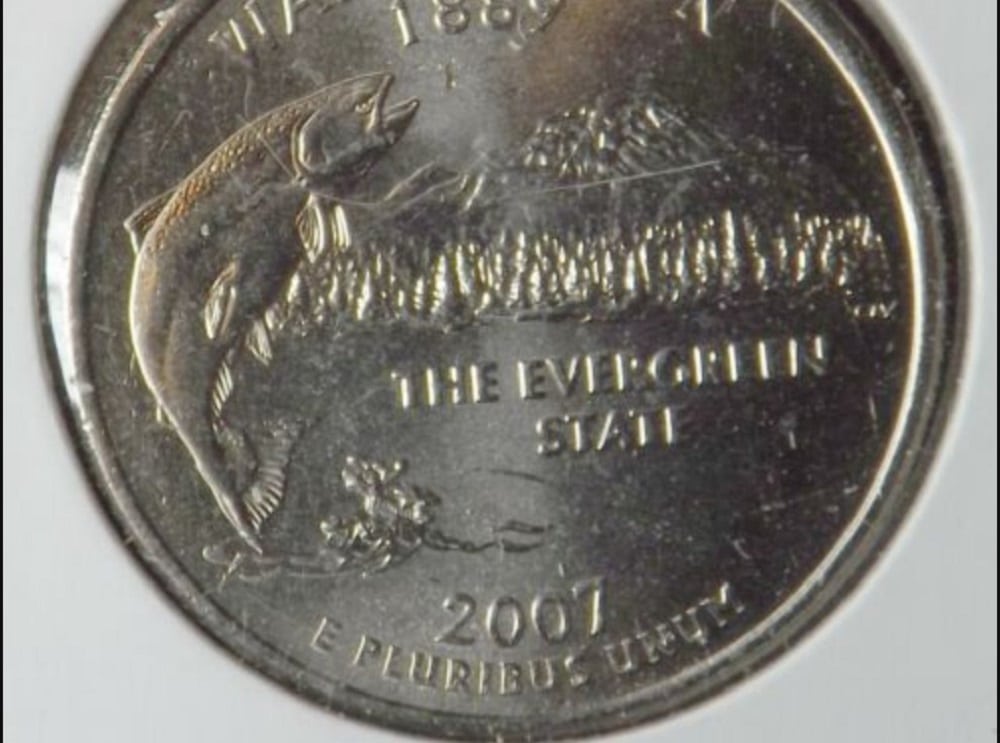 Since it was the first U.S. presidential dollar coin ever made, many people would be interested in purchasing one. These coins have historical value, which you can exploit to your financial advantage.
The government made available 250 USD worth of these coins per box. Customers could place orders at face value without worrying about shipping costs.
---
2007-S Washington Proof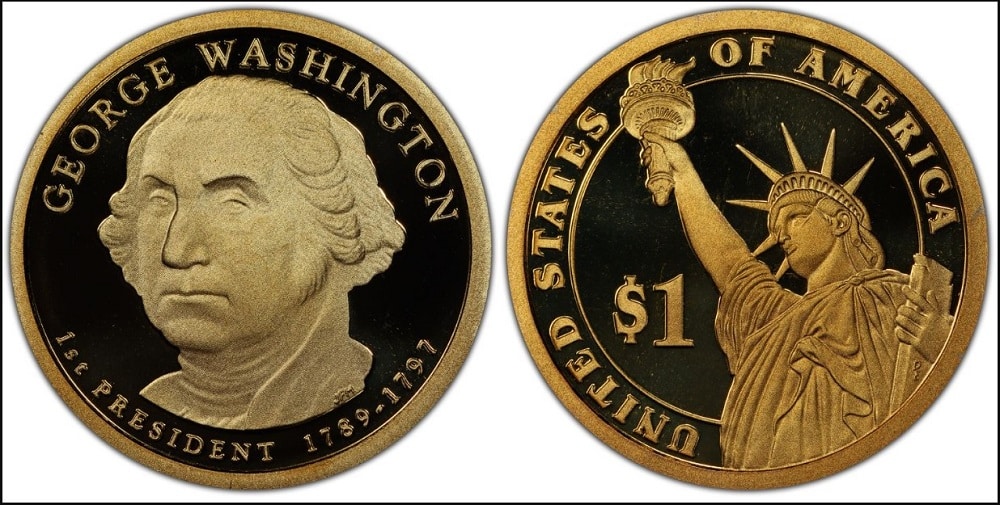 The scarcity of these dollars demonstrates their immense value. Moreover, they have a high coin rating when they are at their finest. PCGS gives a PR70 grade to the best-known example. These coins have All the essential information published on both sides and have a high-quality finish.
The San Francisco Mint, for example, took the time to craft these coins using special dies painstakingly. Their costs vary from $13.95 to $280, depending on the item's standard.
---
2007 Washington (Without Edge Lettering)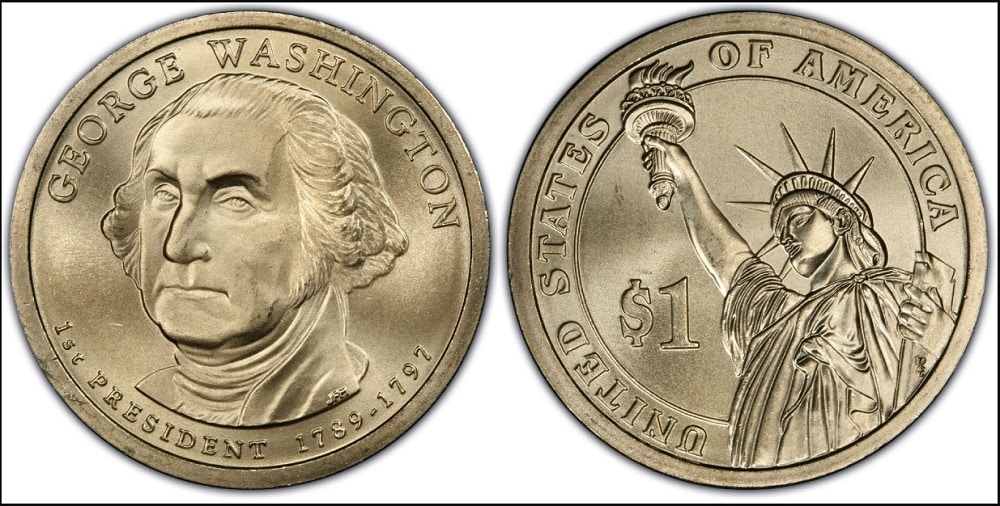 To most modern collectors, the dollar coin represents the pinnacle of monetary art. Any willing buyer can notice the mistakes; however, the dollars' worth does not decrease. Keep in mind that this error will increase the future value of Mint state coins.
The coins are readily available, either in loose change or at a high price on the market. It's worth more if it's in pristine condition, with a high sheen and only a few minor scuffs or scratches. These coins fetch a price of approximately $17,625 in their finest shape.
---
2007 John Adams (Without Edge Lettering)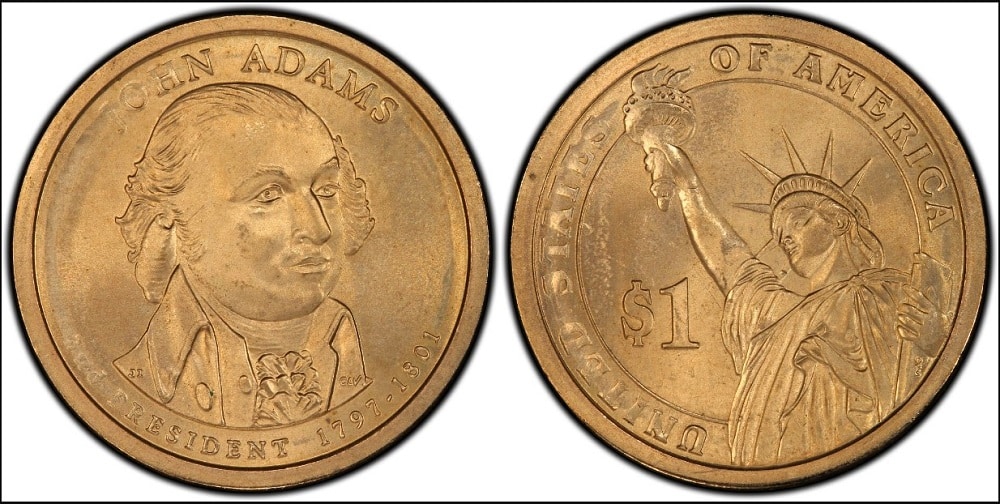 Errors appeared on these coins before any other presidential coins had. The Philadelphia mint did not include edge lettering when structuring them to avoid confusion. Remember that the Mint's P mark served as this letter's mark.
The Philadelphia Mint produced close to 112,420,000 coins. Many of these coins are still in circulation today. This coin fetches a price of around $141,000 at its highest mint state.
---
John Adams's Proof (2007-S)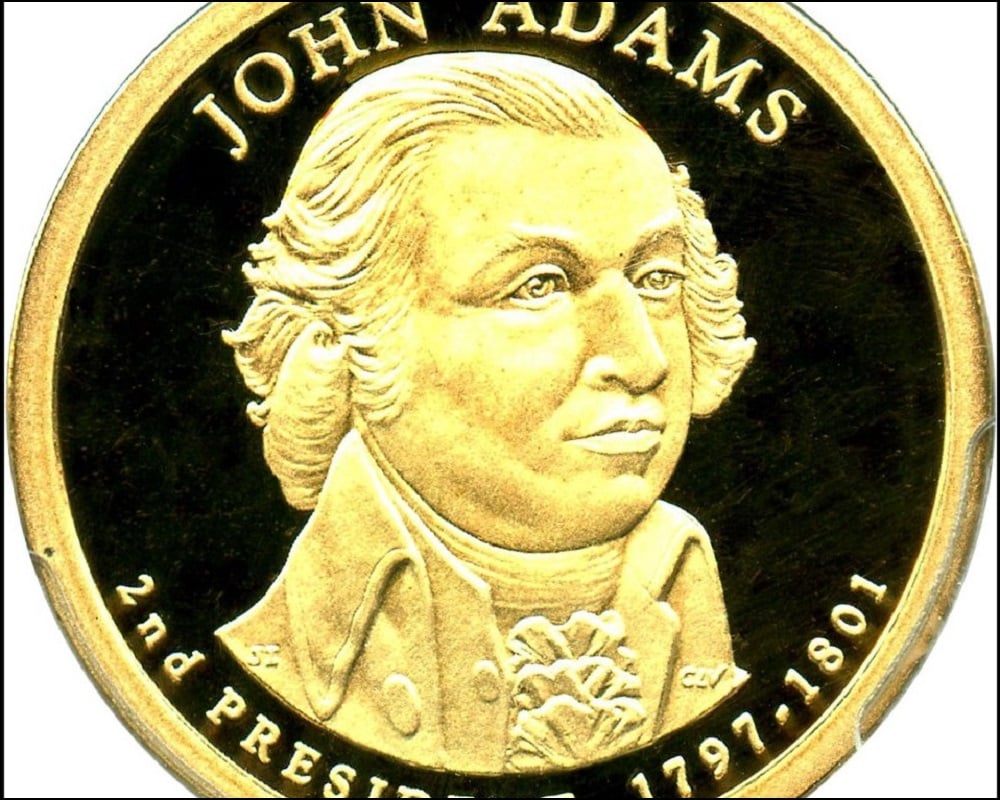 You'll appreciate the coin's excellent luster before you sell it. The coins are flawless as well. Remember that the San Francisco Mint only produced these for private collectors. Coins struck at the Philadelphia, and Denver mints did not make it into proof form.
You can also count on the value to increase further in the future. The reason is that the fluctuating coin market will make the coin increasingly scarce. An initial mintage of 3,965,989 coins was made available by the San Francisco Mint. Prices start at $4 in PR 65 and go up to about $100 000 USD.
---
What determines the Dollar Coins Value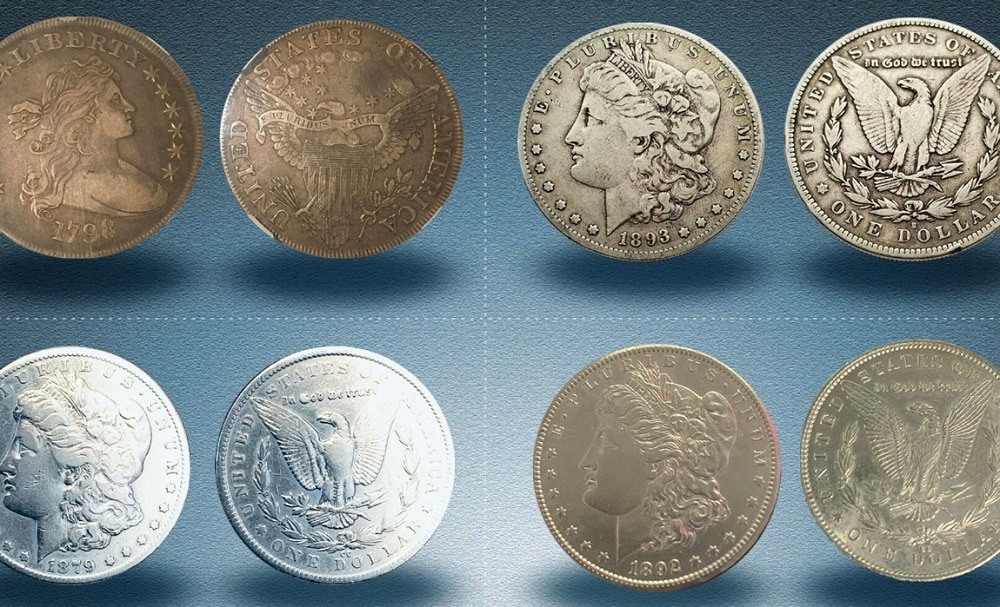 Here are features that determine how much your dollar coin is worth:
Dates, Varieties, and Rarities
A Sacagawea dollar coin is worth several times as much as a Cheerios dollar coin. These $1 Sacagawea coins have been tampered with or are fakes. To verify the authenticity of your coin, have it graded by a trusted dealer or service.
Quality or Condition
An uncirculated coin shows no signs of being in circulation. There is no numismatic value in commonly used currencies.
Coin Marks
The Philadelphia (P), San Francisco, and Denver (D) mints all contributed to the production of the Sacagawea and Native American $1 coins (S: proof coins only). Mint marks for Sacagawea dollars (issued from 2000 to 2008) are on the obverse and below the date.
The mint mark for the current iteration of the Native American dollar (minted from 2009 onward) can be found on the coin's rim immediately following the date.
---
Conclusion
It's possible to get more than $1.00 for some dollar coins. Primarily the 1794 Flowing Hair Dollar value is known to top the list. But in uncirculated or proof condition, presidential dollars are also valuable.
Also, the ones with errors like the missing edge lettering are better than the normal ones. Date, variety, rarity, quality, and coin marks all play a role in establishing a dollar coin's worth.